---
The 3 in 1 Postpartum Recovery Belt after Childbirth is designed for postpartum recovery and weight loss.
The women's 3 in 1 Postpartum Recovery Belt is easy to wear, adjust and remove.
IMPORTANT INSTRUCTIONS:

Not intended for use during pregnancy
Avoid contact with the skin directly, recommend wearing an undershirt under the belt
If you feel uncomfortable please adjust the belt or reduce the usage time
Recommended to wash before initial use. 
Bring Back Your Pre-pregnancy Waist Line With The 3 in 1 Postpartum Recovery Belt
After you've given birth, your stomach has a kind of deflating, and you're left with this jiggly bag. It feels really bulky and uncomfortable. Sometimes, when you don't have core strength, it's normal to over compensate your back while you're moving about. It can lead to some pretty bitter back pain in the first few weeks! 
The ultimate maternity waist support for C section and overall post-pregnancy!
The Postnatal Support Belly Belt with the new triple compression will help you get back to your pre-pregnancy dresses faster. What we think the most important thing is that it will give you the confidence that you've lost for months or years when you see your stomach tense up. Only start wearing it if you feel relaxed after delivery and see the magic of the Postnatal Support Belly Belt. '
Adjustable & Good for Mothers: You can easily put it on yourself and pull is equal on both sides, you can adjust how tight you want it without removing the band to keep you supported for a long time. It's a great gift for women who have just given birth or surgery, resulting in loose skin and back pain. 
Outstanding Support: With the 3 in 1 Postpartum Recovery Belt - If you're going through vaginal birth or c-section, your pelvis has widened to get you ready for work. Using the pelvis band to put the pelvis back to form. Postnatal belly wrap & abdominal binder will help support your back, minimize back pain and help hold your baby in good posture when breastfeeding. - The postpartum healing of the belly brace.
The 3 in 1 Postpartum Recovery Belt is Strong & Breathable: Made of stretchy, breathable and lightweight fabrics. Flexible, breathable, easy to clean. It doesn't roll up, so it can be worn underclothing.
The postnatal belly belt is made of polyamide and elastane, Ultra-breathable in four seasons!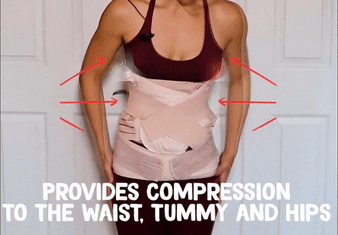 Medical-Grade compression: Our Postnatal belly belt forces the abdominal muscles and the internal organs to "relaunch" and function together perfectly. 
Recover Perfect Body Faster: Your body has just performed a miracle, it's time to get your body back in shape. Our Postnatal Belt helps to tuck your uterus in, which helps to compress your womb down to pre-pregnancy size while helping your other organs to get back to pre-pregnancy.
Undercover Design: Almost invisible beneath the clothes. Slip in and out quickly without any additional support.
Doubles As a Full Silhouette Fix: Keeps the unsightly bulges pulled in. It prevents stretching pregnancy-marks from developing.
No Back-ache: stimulates deep pelvic contractions that end back pain and provides significant help during back-feeding.
Stomach belt: Shrinks the abdomen and abdominals halfway back to normal. Provided 1-7 days after birth or c-section.
Waist belt: Flattens all the mid-sections. Relieves back pain. Recommended 1-6 weeks after birth or c-section.
Pelvic belt: Speeds up pelvic contractions reboots and restores optimum muscle and organ function.
Materials & Care:
Fabric: Acrylic

Washing instructions: Hand wash only. Do not iron.
Package Includes:
1x Postpartum Shaper Girdle 3 in 1 Belt
OUR Guarantee
-14 Day Money Back Guarantee: We have you covered - Any issues? We'll return your money back to you, effective immediately upon return!
-24/7 Customer support
: You can contact us at anytime and we will get back to you! See more at our 
Contact Us
page.
-Easy Returns
: Our
3 STEP 
return setup makes it fast and super easy to return your item and get your money back!
1. Contact Us 
2. We issue your return label 
3. You send it Off & receive your money back within 3-5 working days! 
Read What Our Customers Have To Say
Efficient & quality service everytime I buy from here, pleasant experiences are invaluable when shopping online.
Bought a 4K drone from you guys a while back & my 11 year old son hasn't been disappointed, made his birthday a special one!
Absolutely seamless with handling my return whenever i've needed one, customer satisfaction is embedded in the philosophy of Hameed Direct.
The customer service team handled my enquiry professionally and were cohesive with their service, right balance of friendly and professional.