---
Tired of spending hours combing and styling your hair? We have a solution for your problem; comb, untangle and style your hair in a reduced amount of time….
Using the effectiveness of the hair dryer and the volume of the styler, this is your dream come true 5 in 1 hair dryer brush and volumizer. 
Show off your luscious hair and smooth curls/waves after using the unique 5 in 1 oval hair brush that easily produces volume at the root of your hair. Bring the salon worthy blowouts to the comfort of your own home.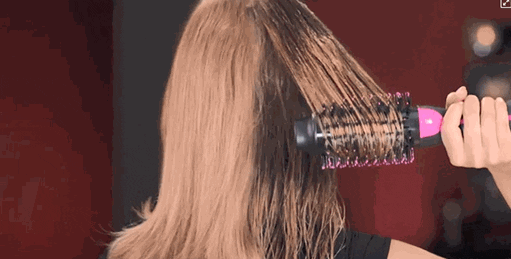 Say goodbye to split ends and heat damage, our 5 in 1 device has negative ION technology for smoothing any frizz.
The built in 3 heat/speed settings (low,cool,high) gives the device the ability to be suited for all hair types, whether your hair is fine & thin or thick and rough it's compatible.                             
This device will increase the moisture in your hair, the negative irons released will nourish your hair, and protect the hair from damaging due to heat. Be proud of your healthy, smooth and shiny looking hair, which will all be the result of using the rotating hair brush that is designed with diffuser technology without conducting static electricity. 
Highlight Features:
1000 Watt Power Provides Perfect Heat Balance. This convenient volumizer can be placed close to the scalp for the lift, unlike any other common hair dryer. Make your styling flexible with the 3 heat settings. 120V (120V Only).  
For Voluminous Blowouts, all you need to do is place the Volumizer under your hair (close to the roots) and roll and slide outward to the ends. Leave it in place for 2 to 3 seconds under the roots. The lesser the time spent working on your hair, the lesser the damage. 
Oval Brush Design. The oval and round shape of the brush creates volume in the hair. The brush is designed with a mixture of Tufted Bristles & Nylon Pins to help you detangle your hair with ease.
Unique Shape for smoothing the hair, while round edges create volume. The shaft is about 2", the bristle-tip to bristle-tip width is 4" at its widest part. The length of the tool is about 18" long. The specifications of the brush is important to see if the length of your hair is suitable for this tool. 

How To Use:
For Faster Results: Firstly remove excess water from your hair with a towel, then detangle your knots by running a comb through it for best results.
Part Your Hair In Sections: For smooth and hassle free blowouts, put the Volumizer brush near the roots and brush down toward the ends. The hair will detangle with the use of the mixed nylon pin. At the same time the tufted bristles will grip the hair and smooth it due to the boar technology.



Specifications 
Wattage: 1000W
Voltage: 230V / 50-60 Hz
Power Cord: 2.0 Metre
3 Gears: Low/Medium/High
UK Plug INCLUDED
OUR Guarantee
-14 Day Money Back Guarantee: We have you covered - Any issues? We'll return your money back to you, effective immediately upon return!
-24/7 Customer support
: You can contact us at anytime and we will get back to you! See more at our 
Contact Us
page.
-Easy Returns
: Our
3 STEP 
return setup makes it fast and super easy to return your item and get your money back!
1. Contact Us 
2. We issue your return label 
3. You send it Off & receive your money back within 3-5 working days! 
Read What Our Customers Have To Say
Efficient & quality service everytime I buy from here, pleasant experiences are invaluable when shopping online.
Bought a 4K drone from you guys a while back & my 11 year old son hasn't been disappointed, made his birthday a special one!
Absolutely seamless with handling my return whenever i've needed one, customer satisfaction is embedded in the philosophy of Hameed Direct.
The customer service team handled my enquiry professionally and were cohesive with their service, right balance of friendly and professional.