---
Cut Short Your Endless Salon Visits and Bring The Professional Results To The Comfort Of Your Own Home!
Perfectly style and customise your hair your own desired way with our unique hair styler.
Customised with 5 additions engineered to curl, dry, wave and straighten your hair. Your results are instant and match the quality of the results attained by salon visits.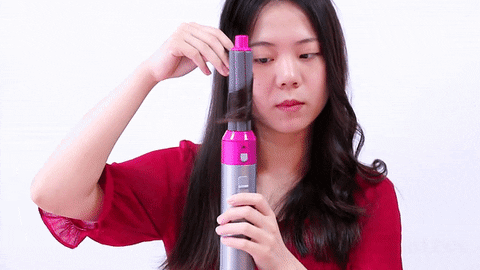 Create picture worthy ripple waves, voluminous curls or even style it to perfection and create sleek and straight hair.

Due to the varied range of attachments the rotating hair brush can be used on a variety of hair types from 1a to 4b.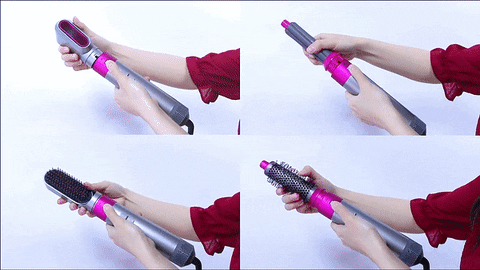 Suitable Temperature: Our limited edition hair styler can reach 110v power; the perfect heat to style your hair without burning. It also consists of 120 degree overheat protection and 3 heat settings for styling flexibility.
5-in-1 Design: A convenient combination of both hair styler & hair dryer. Can be used on both wet and dry hair, suitable for all hair types.
5 Sizes of Attachments: The bigger spin brush creates voluminous curls, the smaller brush gives small and delicate waves. There is a variety of choices to choose from by using this hair styler.

 
Different Hairstyles: 5 Heat Settings and 1 cool shot to provide you with instant, long lasting and picture worthy results. It can be adjusted to meet every hair type by the different heat level settings. (The thicker the hair the higher the heat, the finer the hair the lower the heat).
Unique Oval Brush Design: The unique and compact oval brush design in our hair styler is perfect for hair smoothing. The rounded edges create beautifully curled ends.
Heat Settings:
0: Off Level
1: Moderate temperature for gentle drying and styling Level
2: High temperature for fast drying and styling Level
3: Highest temperature for fast drying and styling
How Do You Get Different Hairstyles? 
Specifications:
Max. Temperature: 200 °C
Power: More than 100 W
Min. temperature: 100 °C
Applicable hair: Dry & wet
Power Cord Tail Assembly Mode: 360° Rotatable
Voltage: 100-240v (Dual voltage)
OUR Guarantee
-14 Day Money Back Guarantee: We have you covered - Any issues? We'll return your money back to you, effective immediately upon return!
-24/7 Customer support
: You can contact us at anytime and we will get back to you! See more at our 
Contact Us
page.
-Easy Returns
: Our
3 STEP 
return setup makes it fast and super easy to return your item and get your money back!
1. Contact Us 
2. We issue your return label 
3. You send it Off & receive your money back within 3-5 working days! 
Read What Our Customers Have To Say
Efficient & quality service everytime I buy from here, pleasant experiences are invaluable when shopping online.
Bought a 4K drone from you guys a while back & my 11 year old son hasn't been disappointed, made his birthday a special one!
Absolutely seamless with handling my return whenever i've needed one, customer satisfaction is embedded in the philosophy of Hameed Direct.
The customer service team handled my enquiry professionally and were cohesive with their service, right balance of friendly and professional.