Cordless Hand Massager with Heat Compression Relief
Save

£37.00
Save

£37.00
Original price
£99.99
-
Original price
£99.99
FREE 2-5 Days UK Delivery
You Deserve Pain-Free Hands!
Sick of your hands being tired and achy? We have the solution for you, our hand compression massager will squeeze away the aches, stresses and strains from your daily life from your hands and give you an exhilarating massage experience.
Get your muscles stimulated through the heat therapy and air compression in the device which eases any soreness and relieves pain found in your hands.
This helps increase the blood flow toward the injured tissues as well as more oxygen and nutrients being circulated throughout the hand. 
Experience Therapeutic Technology From Your Own Home!
This device is both recommended and used by doctors and professionals to significantly reduce and minimise symptoms of arthritis, joint pain, inflammation and carpel tunnel syndrome etc.
The difference is, getting treated in an office or a clinic costs an extensive sum of £400-£2500 per month.
Our budget friendly device will save you the financial loss whilst offering the same healing services as an in office treatment. Proven to be an extremely effective hand massager for at home pain treatments.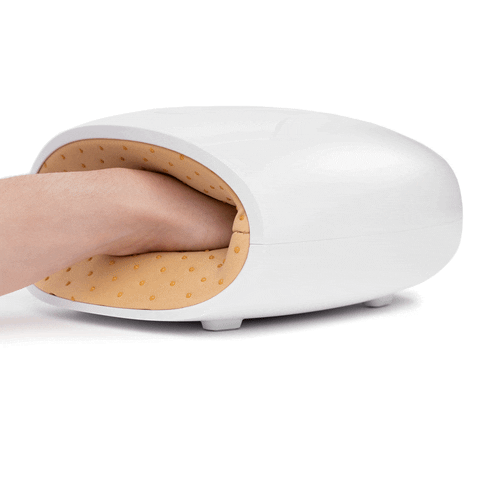 What Can It Do For My Hand?
At home solution for strain, arthritis, cold hands, inflammation & carpal tunnel syndrome.
Ease of access through portability. It is also wireless and rechargeable.
3 levels of intensity with heating
An option for kneading with air pressure manager. 
Highlight Features
Type of massage: Hand massage using air pressure.
Massage Areas: Both hands and wrists.
Main functions: Thermotherapy, Reflexology and Pressotherapy. 
Operation mode: Includes a touch screen control panel with buttons. 
Effectively reduces fatigue and eases muscle tension.
Makes the skin delicate and smooth by significantly improving the micro circulation of the hand.
Eliminate pain from different areas of the body via hand reflexology technique providing a natural analgesic effect.
Specifications:
Voltage: 5V
Power: 8W
Size: 24.5 x 21 x 13.5cm
Weight: 1200g / 1.2KG
Package Includes:
1x Cordless Hand Massager with Heat Compression Relief
1x USB Charging Cable
1x Instruction Manual
OUR Guarantee
-14 Day Money Back Guarantee: We have you covered - Any issues? We'll return your money back to you, effective immediately upon return!
-24/7 Customer support
: You can contact us at anytime and we will get back to you! See more at our 
Contact Us
page.
-Easy Returns
: Our
3 STEP 
return setup makes it fast and super easy to return your item and get your money back!
1. Contact Us 
2. We issue your return label 
3. You send it Off & receive your money back within 3-5 working days!