---
Want to know what the 25th element is? Find it on the display and see it in action. Perfect Gift For Science Lovers

This is kind of… perfect. There, we said it. We'll say it again too. This periodic table display is perfect.
It's beautiful, safe to handle, and showcases the real elements in their natural form; Periodic Table Display With Real Elements & Built in Acrylic Crystals!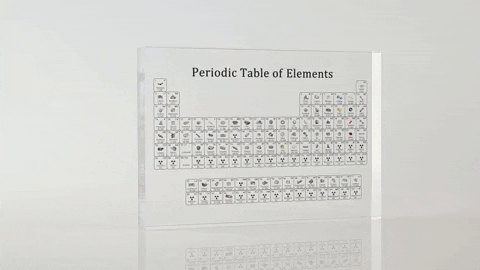 So unique, you'll never see another like it.
Eye-catching.

 

Set it on your desk and you won't get any work done. It was made to be beautiful, and you don't have to love science to see that.
Real elements. You don't have to do an internet search to see what they look like, they're right there in front of you. How amazing is that?
Durable.

 

We're not saying you should punch it, but if it scrapes against your desk or the cat knocks it over, it should be just fine.
See-through.

 

You can see through it, which means if you want to add a light just behind the periodic table display, it'll make the whole thing shine. 
Safe to touch.

 

Yes, some elements are toxic. If it's radioactive, we took it out. Sorry. But most of the others are all here, totally safe contained within their display case.
It's the ultimate gift for science teachers and kids who dream of becoming scientists. Birthdays, anniversaries etc 
Periodic Table Display With

Real Elements
A Rare Collectible
The Ethereal table is an astonishing collection of 83 REAL samples making up our universe
Irreplaceable gift for chemistry lovers and sophisticated collectors
Package Includes: 
1x Periodic Table Display With Real Elements - Built in Acrylic Crystals
1x Safe Packaging Box
OUR Guarantee
-14 Day Money Back Guarantee: We have you covered - Any issues? We'll return your money back to you, effective immediately upon return!
-24/7 Customer support
: You can contact us at anytime and we will get back to you! See more at our
Contact Us
page.
-Easy Returns: Our 3 STEP return setup makes it fast and super easy to return your item and get your money back!
2. We issue your return label
3. You send it Off & receive your money back within 3-5 working days!
Read What Our Customers Have To Say
Efficient & quality service everytime I buy from here, pleasant experiences are invaluable when shopping online.
Bought a 4K drone from you guys a while back & my 11 year old son hasn't been disappointed, made his birthday a special one!
Absolutely seamless with handling my return whenever i've needed one, customer satisfaction is embedded in the philosophy of Hameed Direct.
The customer service team handled my enquiry professionally and were cohesive with their service, right balance of friendly and professional.