---
Do you want to stay cool, sweat-free and keep your makeup looking great during your outdoor activities. This Portable Neck Fan Will Be Your New Addiction!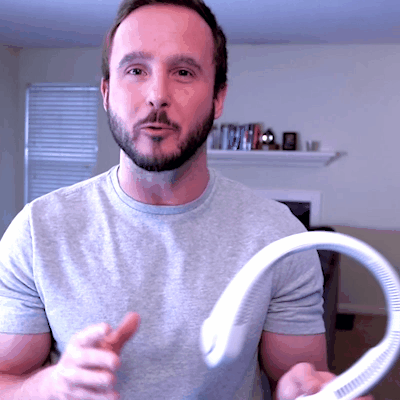 Three-Speed ​​Wind Speed ​​Adjustment: Three-speed wind speed, to meet your different needs, 360 ° surround, accelerate air circulation and avoid physical discomfort caused by direct blowing. The neck fan's brushless motor keeps the fan running quietly even at the highest speed and minimizes losses.
Portable USB Charging: Built-in 4000mAh lithium battery fan powered by USB. No additional batteries are required. The small personal fan is compatible with most computers, laptops, portable chargers and other devices with a USB output. Working hours depend on different speeds. The ideal portable neck fan for everyone the lightweight simplicity of it makes it the best neck fan around!
Lightweight & Flexible Mini Neck Fan: The lightweight and small design and the use of food grade silicone on the neck surface conforms more closely to the skin and can be adjusted to any angle to cool and be more comfortable. The bladeless fan prevents your hair from tangling. It can be used for outdoor activities, barbecue, watching sports matches, walking, climbing, etc.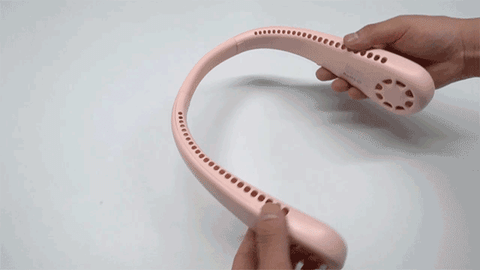 No need for a bulky device or constantly needing to direct the fan towards yourself.

✓ It Never Gets In The Way Of Your Hair, Unlike Most Other Fans That Go Around Your Neck
✓ Perfect for Indoors and Outdoor Use Cooling Neck Fan
✓ 3 Level Air Speed: Weak Wind> Natural> Strong Wind
✓ 62 Ventilation Holes to Keep Face & Neck Cool

✓ Saves and Keeps Makeup Intact
✓ Bladeless Design To Keep Your Hair In Place
✓ 16 hours Full Battery Life
✓ Dustproof and Sweatproof Around The Neck Fan
✓ Perfect for Men, Women & Kids
Specifications:
Material: ABS+TPR
Output power: 4.5W
Input current: DC 0.5A /1A
Output voltage: DC5V-9V
Input voltage: DC5V
Power supply mode: battery storage (a lithium battery), USB power supply
Life time: APPROXIMATELY 10 hours (level 1) about 8 hours (level 2) 6 hours ( level 3)
Product size: 19.7x19.8x6cm

Package Includes:
1x USB Portable 360 Neck Fan - Rechargeable & Lightweight Fan
1x Charging Cable USB
OUR Guarantee
-14 Day Money Back Guarantee: We have you covered - Any issues? We'll return your money back to you, effective immediately upon return!
-24/7 Customer support
: You can contact us at anytime and we will get back to you! See more at our 
Contact Us
page.
-Easy Returns
: Our
3 STEP 
return setup makes it fast and super easy to return your item and get your money back!
1. Contact Us 
2. We issue your return label 
3. You send it Off & receive your money back within 3-5 working days! 
Read What Our Customers Have To Say
Efficient & quality service everytime I buy from here, pleasant experiences are invaluable when shopping online.
Bought a 4K drone from you guys a while back & my 11 year old son hasn't been disappointed, made his birthday a special one!
Absolutely seamless with handling my return whenever i've needed one, customer satisfaction is embedded in the philosophy of Hameed Direct.
The customer service team handled my enquiry professionally and were cohesive with their service, right balance of friendly and professional.