---
This WATERPROOF Cat Litter Carpet Will Make Cleaning Up After Your Cat Much More Easier - Perfect For Kittens and Cats!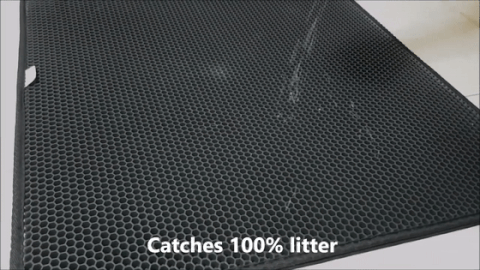 Pet Carpet Catches 100% Garbage Litter
Honeycomb's mats accommodate tiny pieces between layers that automatically capture debris as the cat comes out of the litter box.? Each size mat supports all types of cat litter, including clay, crystal, corn, bush, wheat and granules!
Cat Friendly - Your Pet Will Love It 
Heavy duty EVA rubber foam is safe, non-toxic and completely pet friendly! Due to it's durable, soft, smooth and comfortable surface it will make it easier for your furry friends to get in and out of their boxes.
Easy To Clean - Makes Life Easier For You
These rectangular litter mats are bulky to prevent litter from tracking or scattering on the floor, minimizing bacterial spread and maximizing cleanliness.
The double layer pad is completely waterproof in the event of an accident, capturing debris between the two layers of rubber, keeping the house clean and effectively working with all types of cat litter!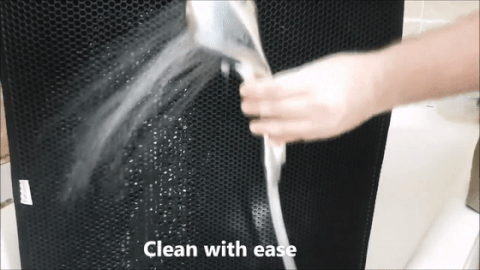 Specifications:
Size: Large 40x50cm
Material: EVA
Type: Litter Mat
Animal: Cats Mainly
Model: Foldable double-layer cat litter pad
Works With All Types Of CAT LITTERS
Package Includes:
1 x Waterproof Cat Carpet Litter - Easy Cleaning Large Size Double Layer Mat
OUR Guarantee
-14 Day Money Back Guarantee: We have you covered - Any issues? We'll return your money back to you, effective immediately upon return!
-24/7 Customer support
: You can contact us at anytime and we will get back to you! See more at our 
Contact Us
page.
-Easy Returns
: Our
3 STEP 
return setup makes it fast and super easy to return your item and get your money back!
1. Contact Us 
2. We issue your return label 
3. You send it Off & receive your money back within 3-5 working days! 
Read What Our Customers Have To Say
Efficient & quality service everytime I buy from here, pleasant experiences are invaluable when shopping online.
Bought a 4K drone from you guys a while back & my 11 year old son hasn't been disappointed, made his birthday a special one!
Absolutely seamless with handling my return whenever i've needed one, customer satisfaction is embedded in the philosophy of Hameed Direct.
The customer service team handled my enquiry professionally and were cohesive with their service, right balance of friendly and professional.